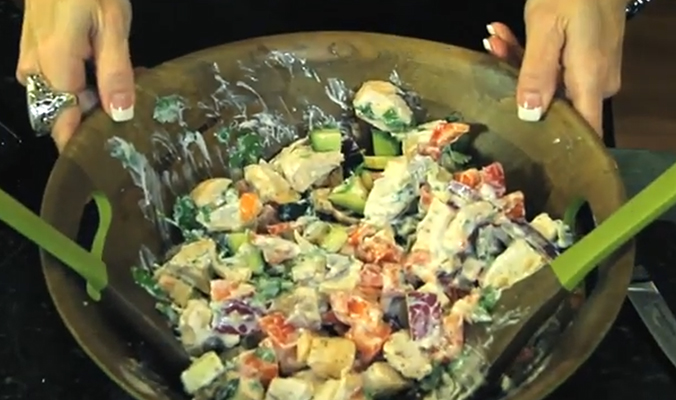 Enjoy the flavors of the Mediterranean in this easy dish! Chock full of valuable vitamins and nutrients, it's a great refreshing meal for the heat of the summertime.
Ingredients
1 cup of nonfat plain Greek yogurt
3 cups of chopped skinless cooked chicken
1 diced cucumber
¼ cup of chopped pitted green olives
½ cup of diced red onion
3 diced Roma tomatoes
1 diced red bell pepper
¼ cup chopped cilantro
2 tbsp. of fresh lemon juice
1 tbsp of oregano
6-10 6" whole-wheat pitas
Directions
Combine yogurt, lemon juice, cilantro, and oregano in a small bowl, set aside
Toss tomatoes, onion, cucumber, olives, pepper, and chicken in a large bowl.
Add yogurt mix to the chicken and vegetable mix.
Stir it around until vegetables and chicken are all lightly coated with the yogurt mixture
Cut pita in half and add about ½ cup of the chicken salad mixture to each side
Enjoy!